BigScreen Broadcast for iPhone/iPad makes it easy to stream video from your iPhone or iPad's camera to your Mac OSX computer (using the free BigScreen Broadcast Viewer): simply push a button, and instantly see your camera on your computer.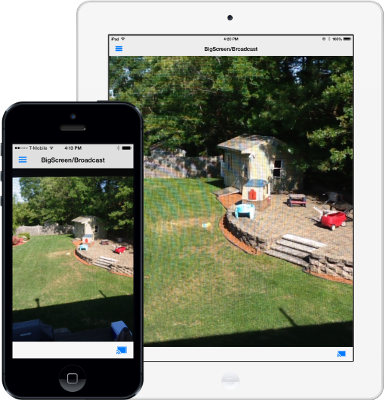 We built the simplest, easiest way to stream your camera video onto your Mac OSX screen: just pick the screen and we automatically stream the video over.
Automatically detects all Mac OSX computers running the BigScreen Broadcast Viewer: lets you pick one to send to.
Automatically detects all ChromeCasts: lets you pick one to send to.
Accepts requests from BigScreen Broadcast Viewer: start a connection from your computer.
Supports all cameras: you can select the camera to stream and it instantly updates the on-camera display.
Adjust the frame rate from 1 frame per second up to 10 frames per second.
$0.99